At Swachdoot, we manufacture a complete range of best-in-class Pine, Neem and Citronella based Perfumery Floor Cleaners/Phenyle. We also manufacture Lemon, Lavender, Rose and Pine based Disinfectant Floor Cleaners. Our products are available in multiple fragrances and are ideal for domestic and commercial use.
Our stringent quality control, competitive cost, and consistent timely delivery have made us one of the most preferred vendors.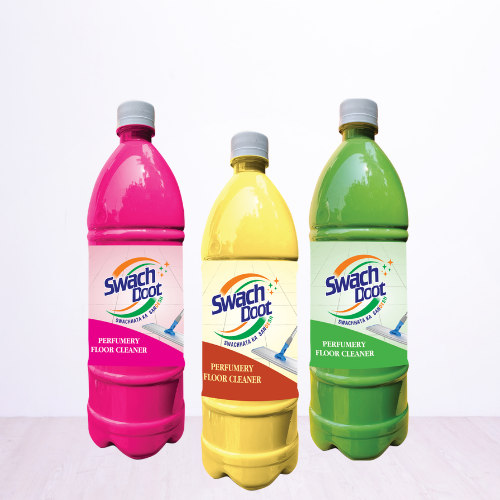 Swachdoot Floor Cleaners are processed from pure Pine Oil, Eucalyptus Oil, Nilgiri Oil, Lemon Oil, and Neem extracts. The healing properties of Nilgiri Oil promote good health. Our products have triple benefits- functioning as a sterilizer for germs, room fresheners, and surface cleaners. These are best suited for marble, granite, and tiles.
Removes 99.9% of germs
Removes tough stains and hard water deposits
pH Controlled.
Safe for Floor & Hands
Long-lasting fragrance deodorizes indoor spaces
Pine, Citronella, Rose, Jasmine, Lavender
Disinfectant Floor Cleaners
Prepared from rich floral and fruit extracts, our Disinfectant Floor Cleaners remove 99.9% germs, increase the shine of the floor and repel mosquitoes and insects. Besides disinfecting and cleaning all floor types, our products have a fresh floral fragrance that lingers throughout the day. 
Removes 99.9% of harmful bacteria
Cleans tough stains
pH Controlled
Safe for Floor & Hands
Long lasting fragrance deodorizes indoor spaces
Floral, Lemon, Lavender and Pine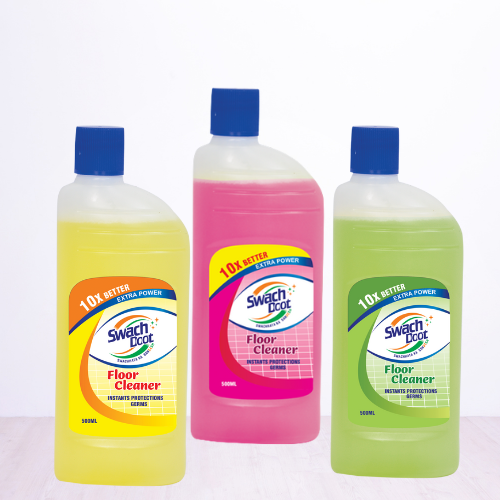 Swachdoot is open to a variety of packaging options beyond standard sizes. All our products pass through quality checks at various levels to provide you unmatched quality at a competitive cost.
Sizes Available:
975 ml, 1 ltr. and 5 ltrs.
ADDRESS
Div Dev Dix Building, Opp Karavali College, 5th Floor, Bangra Kuloor Road, Mangalore, 575003
EMAIL ADDRESS
customercare@swachdoot.com